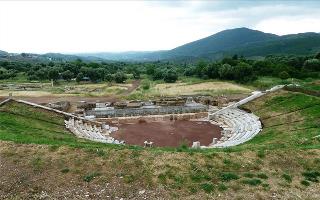 Ancient Theatre of Messene
One of the most important cultural events of the summer of 2013 was the "opening" of the restored ancient theater in Messina. "Opening" refers to the re-inauguration of the theater after 2300 years. The collaborative effort of the "Diazoma" Association (Citizens for Ancient Theaters), the inspiration of Stavros Benos, together with the partnership of the Athens Festival – Epidaurus and the Athens State Orchestra, led to a gala presentation of Italian opera at the Theater on Saturday, August 3, 2013.
To learn more about the history of this ancient theater and to read excerpts from an interview given by Petros Themelis, the archaeologist who devoted 27 years of his life to the Theater's restoration ("Kathimerini," August 11, 2013), click on "GR" in the upper right hand corner of this webpage (in Greek only).