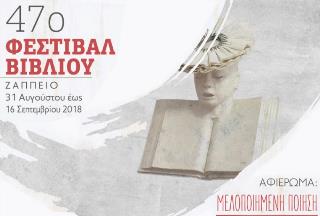 47th Book Festival (Zappeion)
The 47th Book Festival (Zappeion, 8/31/2018 to 9/16/20180) is dedicated to Poetry Set to Music and is an event that has been organized within the framework of "Athens 2018 – World Book Capital."
The 47th Book Festival kicks off at Zappeion on Friday, August 31, as Athens continues to celebrate World Book Capital 2018 with a plethora of book-lovers events.
Athens Mayor Giorgos Kaminis will officially inaugurate the festival on September 3, at 8pm.
This year's two-week festival is dedicated to Poetry Set to Music and aims to highlight the relationship between writing and the arts with tributes to authors, composers, lyricists, singers, musicians and actors.
Parallel events, including seminars and workshops, will feature prominent writers and artists including Manolis Anagnostakis, Loula Anagnostaki, Katerina Anghelaki-Rooke, composer Giorgos Andreou as well as concerts with Stamatis Kraounakis, Dionysis Savvopoulos, Eleni Tsaligopoulou and Yiannis Kotsiras.
World Book Capital is a global UNESCO cultural event. Athens' tenure ends on April 22, 2019.
The 47th Book Festival, to run through to September 16, is open daily Monday-Thursday from 6pm to 10.30pm; Friday and Saturday between 6pm and 11pm; and on Sunday 10.30am-3pm, 6pm-10.30pm. Admission is free.
More about the program here.
[ Source: https://news.gtp.gr/2018/08/28/athens-47th-book-fest-kicks-zappeion/ ]