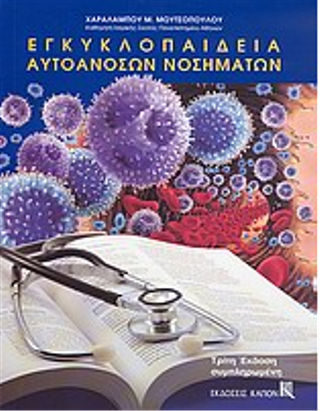 Encyclopedia of Autoimmune Diseases
"In this third, supplemented and improved edition of the encyclopedia – equally valuable for doctors, nurses, patients themselves and those close to them, as well as every educated man – one will find a valuable resource for understanding autoimmunity and the suffering it causes. Apart from excellent clinical descriptions of the diseases, their stages, prognoses and treatments, the reader will find answers to unusual questions as well as practical advice on how to protect oneself."
Author :
Moutsopoulos, Charalampos
Moutsopoulos, Charalampos. Encyclopedia of Autoimmune Diseases. Athens: Kapon Editions, 2010. [R 616.978 ΜΟΥ]
As their name implies, autoimmune diseases occur when the immune (defense) system of the patient attacks not disease-causing invaders that are foreign to the human body, but rather one or more of the body's organs. Autoimmune diseases have a high rate of incidence, affecting 5-8% of the population.
In this third, supplemented and improved edition of the encyclopedia – equally valuable for doctors, nurses, patients themselves and those close to them, as well as every educated man – one will find a valuable resource for understanding autoimmunity and the suffering it causes. Apart from excellent clinical descriptions of the diseases, their stages, prognoses and treatments, the reader will find answers to unusual questions as well as practical advice on how to protect oneself.
Source: Biblionet
Βιογραφικό του συγγραφέα
Ο Χαράλαμπος Μ. Μουτσόπουλος γεννήθηκε και μεγάλωσε στα Γιάννενα. Έκανε τις βασικές του σπουδές στην Ιατρική Σχολή του Πανεπιστημίου Αθηνών ως αριστούχος φοιτητής. Συνέχισε τις σπουδές του σε διακεκριμένα Πανεπιστήμια και Ερευνητικά Κέντρα της Αμερικής, στον τομέα της Εσωτερικής Παθολογίας και των Συστηματικών Αυτοάνοσων Νοσημάτων. Το 1980 επιστρέφει ως καθηγητής Παθολογίας στη νεοσυσταθείσα Ιατρική Σχολή του Πανεπιστημίου Ιωαννίνων, όπου κατορθώνει, σε σύντομο χρονικό διάστημα, να θέσει το τμήμα του στο Διεθνή Επιστημονικό Χάρτη και να κάνει τα Γιάννενα πόλο έλξης ασθενών με αυτοάνοσα νοσήματα από όλη την Ελλάδα. Το 1993 εκλέγεται καθηγητής Παθολογικής Φυσιολογίας στην Ιατρική Σχολή του Πανεπιστημίου Αθηνών, όπου επαναλαμβάνει το πείραμα με απόλυτη επιτυχία. Στόχος του καθηγητή Μουτσόπουλου ήταν και είναι η δημιουργία σωστών γιατρών μέσα από τη διαδικασία της εκπαίδευσης και της έρευνας. Αυτό έχει μεταφραστεί μέχρι σήμερα με περισσότερες από τετρακόσιες δημοσιεύσεις πρωτότυπης επιστημονικής έρευνας σε έγκυρα διεθνή επιστημονικά περιοδικά, με πολλές διεθνείς διακρίσεις και με πλειάδα μαθητών του ιατρών, που επανδρώνουν τα νοσοκομεία, τις Ιατρικές Σχολές και τα ερευνητικά κέντρα στην Ελλάδα και το Εξωτερικό. Εκτός από το καθαρά επιστημονικό έργο, ο Χαράλαμπος Μ. Μουτσόπουλος έχει γράψει εκλαϊκευμένα άρθρα για τους ασθενείς σε εφημερίδες και περιοδικά και έχει εκθέσει τις απόψεις του σε θέματα οργάνωσης του συστήματος Υγείας, Εκπαίδευσης και Έρευνας στην Ελλάδα.
Πηγή: Βιβλιονέτ
Άλλα έργα του συγγραφέα
Όταν ο Ιπποκράτης συναντά… τη Θέμιδα: ιατρονομικά. Αθήνα: Εκδοτικός Οίκος Α.Α. Λιβάνη, 2013.
Ελληνικό "σύστημα"… υγείας: η λειτουργία τους σε καιρό χρεωκοπίας. Αθήνα: Εκδοτικός Οίκος Α.Α. Λιβάνη, 2011.
Μικρές ιστορίες… μακράς πορείας. Αθήνα: Εκδοτικός Οίκος Α.Α. Λιβάνη, 2010.
Απόψεις: «για αυτιά που δεν ακούν». Αθήνα: Εκδοτικός Οίκος Α.Α. Λιβάνη, 2009.
Οδοιπορικό για τη γνώση. Αθήνα: Βιβλιοπωλείον της Εστίας, 2009.
Ανοσολογία: αυτοάνοσα ρευματικά νοσήματα. Αθήνα: Ιατρικές Εκδόσεις Λίτσας, 1990.