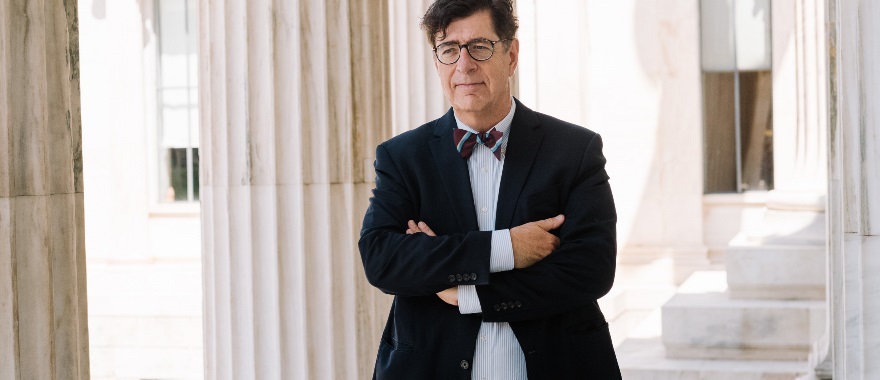 Professor Costas Synolakis Named New Athens College President
Apr 27, 2020
The Board of Directors of the Hellenic-American Educational Foundation (Athens College, Psychico College, International Baccalaureate Programme, and J.M. Carras Kindergarten) and the Athens College Board of Trustees in New York are both pleased and honored to announce that effective September 1, 2020 Academician Prof. Costas Emmanuel Synolakis will assume the office of President of the HAEF Schools.
Prof. Synolakis succeeds Mr. Richard Jackson whose term of office ends on August 31, 2020. Following his graduation from Athens College in 1975, Dr. Synolakis went on to earn professional degrees from the California Institute of Technology (Caltech): a B.Sc. in Engineering and Applied Science in 1978, an M.Sc. in Civil Engineering in 1979, and a Ph.D. in Civil Engineering in 1986.
The new College President was elected a regular member of the Academy of Athens in 2016
and is its current Secretary, Division of Natural Sciences. In 1985 he was appointed Professor of Civil, Environmental and Aerospace Engineering at the University of Southern California (U.S.C.) Viterbi School of Engineering where, in 1996, he founded the USC Tsunami Center. Following his appointment as Professor of Natural Hazards and Environmental Hydraulics at the Technical University of Crete and election by the National Research and Technology Council, he served as President of the Hellenic Centre for Marine Research. In 2019 he was selected Chairman of the newly established Special Scientific Committee on Climate Change in Greece, where he serves pro bono.
His broad research interests are reflected in the variety of topics on which he has written. He has authored a large number of publications, studies, and articles in scientific journals and has conducted dozens of field missions around the world. Among the numerous academic accolades and other distinctions he has received both in Greece and abroad is the Presidential Young Investigator Award bestowed upon him in 1989 by U.S. President George Bush and the prestigious 2019 International Coastal Engineering Award bestowed by the American Society of Civil Engineers (ASCE). He is an internationally renowned pioneer in the field of tsunami research and other natural hazards.
Dr. C. Synolakis' has a close relationship with the College as, in addition to his status as an alumnus, he is also a parent of a student at our School.
The College family welcomes Dr. Costas Synolakis and his wife, Ekaterini-Lefkothea Konidari (LL.B., University of Athens Law School, LL.M. Harvard Law School), Attorney-at-Law and Partner at Theo V. Sioufas & Co. Law Offices. At the same time, it wishes to express its heartfelt appreciation to Mr. R. Jackson for the significant services he has provided, with the hope that he will always remain close to our School and share the same level of interest.
| | |
| --- | --- |
| Nikolaos A. Tsavliris ΄66 | Alexis P. Michas ΄76 |
| Chairman of the HAEF Board of Directors | Chairman of the Board of Trustees |