School Sports Day at Athens College Elementary
Oct 16, 2019
On Friday, September 27th, as part of the celebrations for European School Sports Day and 6th PanHellenic School Sports Day, Athens College Elementary took part in sports activities that were organized by the Physical Education Department in collaboration with the 5th Elementary School of Vrilissia.
Within the context of PYP, which encourages cooperation between schools for the purpose of exchanging ideas and creating a global culture, our School's P.E. Department invited 178 students from the 5th Elementary School of Vrilissia, along with their teachers, to our campus. Students from the two schools engaged in activities that were organized by our P.E. teachers.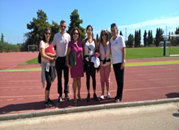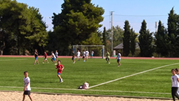 The children took part in relay races on the tracks of "Alexander Athanasiadis" Stadium, as well as volleyball, basketball, handball and soccer matches at the School's sports courts. Teams were mixed, that is they were comprised of students from both schools.
The students had fun, exercised and exchanged views on sports regulations and good sportsmanship.