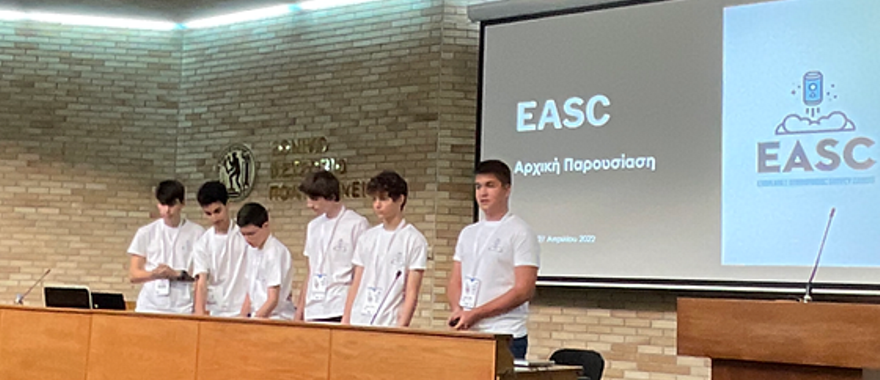 Athens College Junior High School team wins award for best acronym at the Greek National Competition CanSat
May 6, 2022
On Thursday, April 28, 2022, after six months of intensive preparations, the Athens College Junior High School team Exoplanet Atmospheric Survey CanSat (EASC) launched up to 1 kilometer the compact CanSat satellite they designed and printed on one of the School's 3D printers. The compact space device CanSat has the size of a soft drink can, and aims to explore planets outside our solar system.
The launch was part of the finals of the Greek National CanSat Competition which is organized each year in collaboration with the European Space Agency (ESA) and the World CanSat & Rocketry Competition (WCRC). During the four days of the finals of the competition, the teams spent one day at Megara for the launch of the satellite and three days at the National Technical University of Athens for the technical checks, the presentation of their satellite and the final presentation of their results to the judging panel of the competition and to representatives of scientific organizations.
The College's team received an award for the best acronym. This was the only award given in addition to the three first places of the competition (the 1st place team qualifies for the European-level competition).
During their preparations and with the support of the School, the team participated in the Annual Fund, mobilizing members of the wider College family to contribute towards covering the needs of the project through a specially designed page. The response was considerable, and the team managed to raise €4.611 from 55 donors. Having covered the cost of the project, the remaining €3.231,48 went to supporting the Scholarship Program of the College, aiming to provide financial support to students, opening up new opportunities and creating a solid basis for future initiatives by our School's students.
The following students are the members of EASC: Orestis Anagnostakis, Stylianos Antoniadis, Georgios Chainis, Dimitrios Chrysikos, Nikolaos Skevis, and Vyronas Trikkalidis. The Teacher Supervisor is Nikolaos Andrikopoulos, Physics teacher.
Congratulations to our School's team!
You can find more information on the School's website here and on the team's website here https://www.easc.space
See "moments" for the team's work here.