ABOUT THE INTERNATIONAL BACCALAUREATE ® (IB)
In the late 1960s, a group of innovative educators saw a need for an international approach to education which would equip young people with the skills, values and knowledge necessary to build a better world and a more peaceful future. Their vision was to facilitate geographic and cultural mobility and to promote intercultural understanding by creating an academically rigorous education, with a school leaving qualification which would be accepted by the best universities around the world. Combining their collective skills, experience and expertise in all areas of education, they created the International Baccalaureate® (IB).
Established in 1968, the International Baccalaureate® (IB) Diploma Programme (DP) was the first programme offered by the IB and is taught to students aged 16-19. In May 2020, there were over 3,000 schools offering the DP, in 146 different countries worldwide.

The IB DP is recognized and respected by the world's leading universities, and evidence suggests that higher rates of DP students go on to university and higher education study than non-IB students. 
Universities around the world welcome the unique characteristics of graduates of the IB Diploma Programme and recognize the way in which the programme helps to prepare students for university level education. IB DP students routinely gain admission to some of the best-known universities in the world. Most of these institutions have established recognition policies for the IB Diploma. Provided certain requirements are met, the local authorities in Greece recognize the IB Diploma as fully equivalent to the Greek High School Diploma (Apolytirion) (Law 2327, 1995).
CURRICULUM STRUCTURE
The International Baccalaureate® (IB) Diploma Programme (DP) curriculum sets out the requirements for study of the DP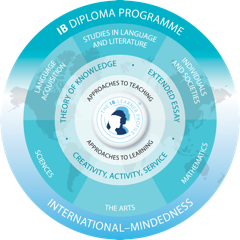 Approaches to Learning skills (ATL skills)
To allow students the greatest chance of success as IB learners as outlined in the IB learner profile and become confident and competent lifelong learners, we must help them develop key cognitive, metacognitive and affective skills.
In the IB Diploma Programme these skills are grouped into five categories which form the Approaches to Learning (ATL). They are an integral part of the IB curriculum and are incorporated into all subjects. Students need to have frequent, repeated opportunities to learn, practise and master approaches to learning skills as they progress from the Primary Years Programme to the Middle Years Programme and into the Diploma Programme.
These five interrelated ATL skill categories are:
Thinking skills
Students are encouraged to think critically when reflecting on the knowledge they already have and when interacting with new knowledge.
Communication skills
In most DP subject courses students are assessed internally and externally through written and verbal communication.
Social skills
Learning from and with each other is essential in the IB learning environment.
Self-management skills
To develop self-management skills goes beyond organizational skills related to meeting deadlines and building examination strategies; students should be able to manage their emotions, learn from failure and develop resilience and perseverance to successfully complete the course.
Research skills
The IB Diploma Core, and many of the subject internal assessments require students to undertake appropriate and detailed research in line with the IB academic integrity policy.

DP CORE and SUBJECT GROUPS
The IB DP curriculum comprises the DP core and six subject groups.

Made up of the three required components, the DP core aims to broaden students' educational experience and challenge them to apply their knowledge and skills.
The three core elements are:
Theory of Knowledge (ToK), in which students reflect on the nature of knowledge and on how we know what we claim to know.
The Extended Essay, which is an independent, self-directed piece of research, culminating in a 4,000-word paper.
Creativity - Activity - Service (CAS), in which students complete a project related to those three concepts.
An IB DP student is required to take 6 examination subjects as well as complete the Theory of Knowledge (ToK) course, write an Extended Essay (EE) in one of the chosen subjects and participate in the Creativity, Activity and Service (CAS) Programme.

The six subject groups are: Studies in language and literature; Language acquisition; Individuals and societies; Sciences; Mathematics and The arts. There are different courses within each subject group.
Choosing subjects in the Diploma Programme
Students choose courses from the six subject groups above. They can choose a second subject from each academic area except for the arts. Students may also opt to study an additional sciences, individuals and societies, or languages course, instead of a course in the arts. Students will take some subjects at higher level (HL) and some at standard level (SL). HL and SL courses differ in scope but are measured according to the same grade descriptors, with students expected to demonstrate a greater body of knowledge, understanding and skills at higher level.

Each student takes at least three subjects (but not more than four) at Higher level, and the remaining subjects at Standard level. Standard level subjects take up 150 teaching hours. Higher level comprises 240 teaching hours.

SUBJECTS OFFERED

In our IB DP, we offer the following subjects. However, if the enrolment for a subject is too small, it may not be viable for the school to offer the subject. Each diploma student is required to take six subjects chosen across at least Groups 1 to 5.
GROUP ONE – Studies in Language & Literature
The courses in this subject group are offered in either Modern Greek or English.  Those students whose language competency allows them to do so may opt for studying both of the above courses, leading to the award of a bilingual diploma. The range of texts studied is broad; students grow to appreciate a language's complexity, wealth and subtleties in a variety of contexts. Confidence and competence in oral and written communication skills are fostered. One of the explicit aims of these subjects is to engender a lifelong interest in literature and a love for the elegance and richness of human expression.
GROUP TWO — Language acquisition
Every student in the IB DP studies in both their best language and in other languages taught as a requirement of the programme. Language B (English, French, German) accommodates second language learners with previous experience learning the language. The principal aim is to enable students to use the language in a range of contexts and for many purposes; the courses focus on written and spoken communication.
GROUP THREE — Individuals and Societies
Business Management, Economics, Global Politics, History, Philosophy, Psychology, Social and Cultural Anthropology
Each subject is designed to foster in students the capacity to identify, to analyse critically and to evaluate theories, concepts and arguments relating to the nature and activities of individuals and societies.
GROUP FOUR — Sciences
Biology, Chemistry, Physics, Environmental Systems and Societies (Interdisciplinary), Computer Science
Students explore the concepts, theories, models and techniques that underpin each subject area and through these develop their understanding of the scientific method. A compulsory project encourages students to appreciate the environmental, social and ethical implications of science.
GROUP FIVE — Mathematics
Mathematics offered at Standard and Higher Levels are available to cater for different abilities and levels of student interest. Each course aims to deepen a student's understanding of mathematics as a discipline and to promote confidence and build capacity in the use of mathematical language and skills.
GROUP SIX — The Arts
This includes Film, Music, Theatre and Visual Arts, with emphasis placed on practical production by the student and exploration of a range of creative work in a global context.