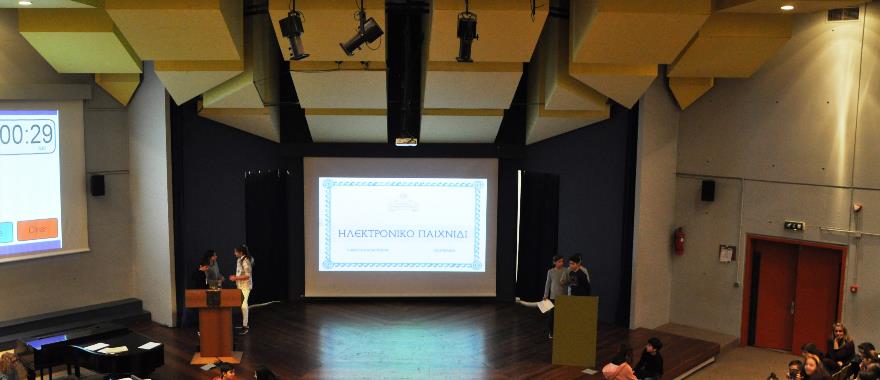 "Young Orators" Public Speaking Event
Feb 1, 2020
The "Young Orators" Public Speaking event that took place on Saturday, February 1st at the Athens College Elementary School Theater, in Kantza, was a huge success.
The competition was open to primary 6th grade students, both in public and private schools that fall under the jurisdiction of the 5th Regional Educational Planning Center. Approximately 90 students from 8 public and private schools took part, forming 14 teams that had an opportunity to compete in such a unique rhetorical "match."
Team "Socrates" representing 3rd Elementary School of Artemida took 1st place. Second place was a tie between Athens College Elementary's "Five Fingers One Fist" team and Psychico College Elementary's "Young Orators." Placing third was 2nd Elementary School of Artemida's "In a Manner of Speaking" team.
The event was co-organized by Dr. Georgia Rogari, Coordinator of the 5th Regional Educational Planning Center of Attica, and the Administration of Athens College Elementary School. It was approved by the Ministry of Education and Religious Affairs (Ministry record no. 10346/Ν1/24-1-2020).
In primary school, "rhetorical competitions" are linked to the Greek Language Curriculum and help develop many desirable and important skills in students, such as critical thinking, reasoning techniques, social awareness, fluency in the spoken work, peer exposure, dialogue, respect towards interlocutors, tolerance of differing opinions, teamwork, cooperation, and self-confidence. The objective was to raise students' awareness and reflection on issues that concern all of us each day, as well as to have them express their opinions in a respectful and effective way in order to persuade the audience.
Everyone who participated in this event hopes that rhetorical competitions will become an important institution for all primary school students.
Congratulations to all the students who took part!