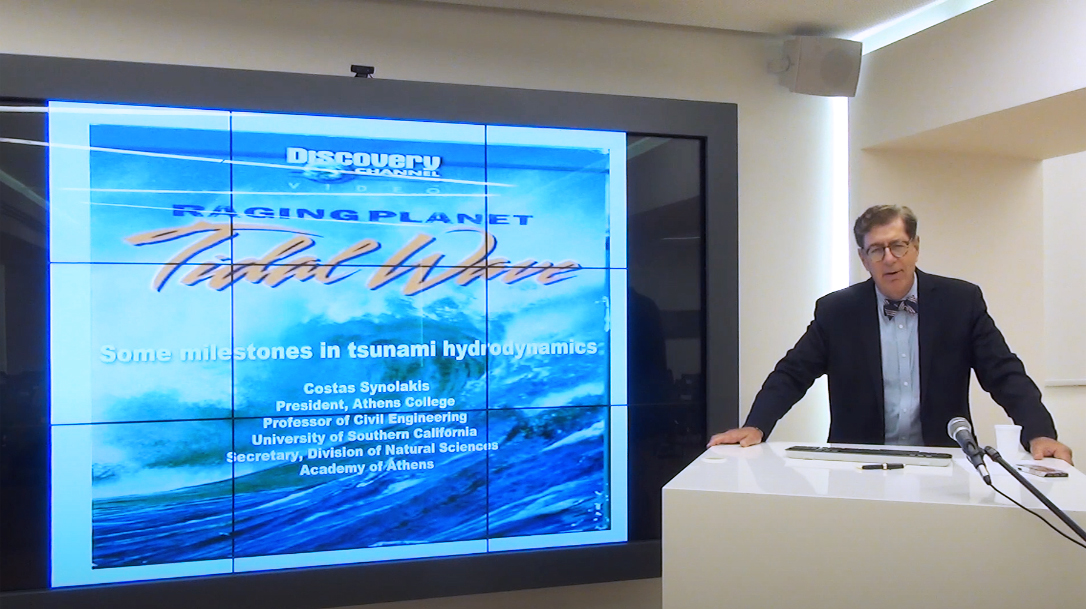 College President, Prof. Costas Synolakis, Honored with Hamaguchi 2020 Award
Nov 3, 2020
The 2020 Hamaguchi Award Ceremony, honoring Athens College President, Prof. Costas Synolakis ΄75, Academician, was held on Tuesday, November 3, 2020 in Tokyo, Japan.
The Hamaguchi Award is bestowed upon individuals or organizations that have made significant scientific or pragmatic contributions to the enhancement of coastal resilience against tsunami, storm surge and other coastal disasters, thus raising people's awareness of disaster resilience.
Dr. Costas Synolakis, Professor at the University of Southern California since 1997 and at the Technical University of Crete (2004-2020), has conducted research on seismology, oceanography, with special emphasis on the effects of earthquakes and tidal waves.
He developed the MOST simulation model to predict the propagation of tidal waves. He also designed and developed the official tidal protection maps for the state of California. He has published numerous articles and more than 110 papers in highly influential scientific journals (amongst them Science, Nature and Transactions of the Royal Society). He has given dozens of lectures and presentations at scientific institutes worldwide and he has supervised doctoral dissertations.
Professor Costas Synolakis has also been the recipient of the International Coastal Engineering Award (2019), the Moffat Nichol Harbor and Coastal Engineering Award of the American Society of Civil Engineers (2015), the Soloviev Medal of the European Geophysical Union in the category of natural disasters (2014), and the County of Los Angeles Award on Leadership in Emergency Preparedness (2001). Additionally, in 1988 he was recognized as one of the top 100 young scientists, receiving the White House Presidential Young Investigator award.
Together with his team, he has led scientific expeditions in Flores and Indonesia (1992), Java and Mindoro (1994), Manzanillo (1995), Papua, New Guinea (1998), Vanuatu (1990), Sri Lanka, the Maldives and Kenya (2004), Java (2006), Samoa (2009), Chile and Midway Islands (2010), Japan (2011), Ventura (2015), Palu (2018) and Krakatoa (2019). Field surveys during these expeditions resulted in 31 reports of hitherto unknown tidal wave preparedness practices that triggered changes in states' public policies to protect against these catastrophic natural phenomena. His recent studies focus on the consequences of coastal erosion in Greece due to rising sea levels and other anthropogenic factors. Since 2016, he is a regular member of the Academy of Athens.
The Hamaguchi Award is presented by the International Promotion Committee for Tsunami/Coastal Disaster Resilience Technology, after the United Nations General Assembly, in December 2015, designated November 5 as World Tsunami Awareness Day. The award is named after Mr. Hamaguchi Goryo who protected and saved his fellow villagers from a tsunami about 160 years ago.
Due to the prevailing conditions imposed by the pandemic, Professor Costas Synolakis participated in the Award Ceremony in Japan with a videotaped greeting, which you can view on the following link: