Congratulations to our new alumni! We are proud.

At this year's Commencement, more than 100 students (1 in 4 seniors) "walked down the steps of Benaki Ηall" thanks to your collective support of the Schοlarship Program and the Covid-19 relief. 
College family giving ensures a College education and experience for all our students and future alumni, empowering them to make our world a better place. Collective participation is our strength. Every gift is an act of optimism. 

See more here
Today, 1 in 4 students attending the College receives financial aid.
The College needs your help to enable these students and others to achieve and benefit from a quality education. 
See more here
Happy Easter
Let us celebrate, feeling uplifted, united, grateful and joyous.
The end of the pandemic is approaching and together we can hasten its stretch by acting responsibly, both individually and collectively.  To be able to hug one another once again.

Thank you for supporting our School's effort and for always being loyal to our students and their families.

Professor Costas Synolakis '75
Athens College President

You made someday... TODAY! Thank you. 
The tremendous outpouring of generosity of the Athens College family was inspiring. Within one month, 600 donors helped raise more than €100.000 to provide scholarships for 14 students. With your support, 12 senior students will walk down the steps of Benaki Hall at Commencement 2021 and 2 students will continue their studies at the College.
You light the way of our students' paths. You give them the opportunity to continue their studies at Athens College and benefit from the singular education it provides. You help to prepare them for life with the values and knowledge attained at the College. You enable them to experience the unique and powerful moment of graduation, engraved in the minds and hearts of all our alumni. Your act of solidarity makes a difference and sets an example for others to follow.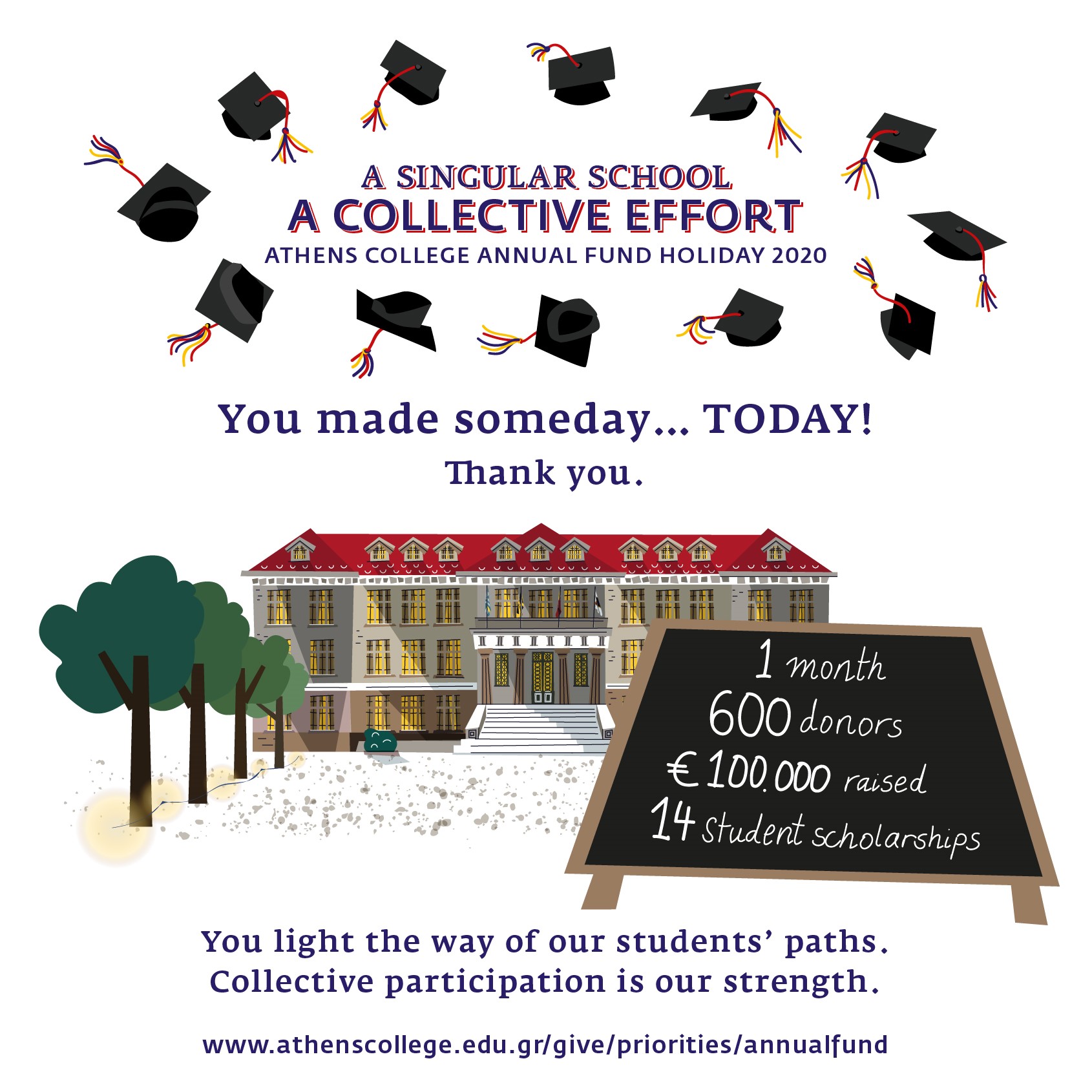 Make someday... TODAY! There are only a few days left to support the Holiday Annual Fund.
2020 has been a difficult year for everyone. In spite of the challenges you can still make a difference in the lives of deserving students.
Here is a gift for you! Happy new year! Thank you for your support. We wish you and your loved ones a joyous holiday with this year's Athens College holiday cards in both Greek and English. You may find images of our snowy campus in Psychico to remind you of the College and to use as the background for your online meetings and calls with colleagues, family and friends! Enjoy festive music from the Music Department and Conservatory.
See more here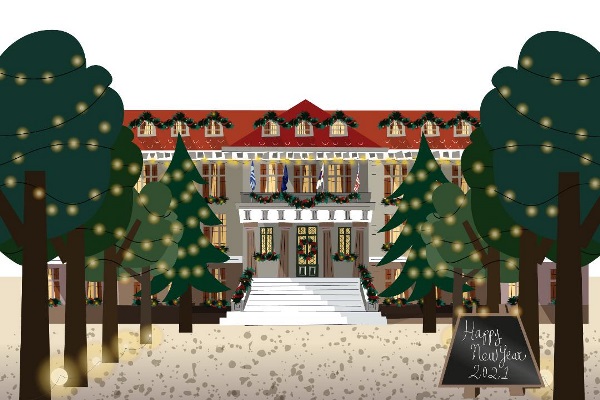 Make someday... TODAY! Light the way of our students' paths.
Let's light the way of our students' paths; down the steps of Benaki Hall and into the world for a brighter  tomorrow.  Every gift – of any size – matters. With the holidays around the corner, let us make a gift that will last a lifetime... 
Your support to the Annual Fund allows us to continue to honor our School's tradition of giving and solidarity.

See more here
Make someday… TODAY! Join us in keeping the spirit of our Christmas Bazaar alive by supporting our students.
These days, we would all be celebrating our School's signature Christmas Bazaar. Although this is not possible this year, we can still be together in spirit through acts of kindness and generosity. We ask you to express your solidarity with our efforts to support our students though this challenging journey.
Let's all participate with as much as each of us can give.
See more here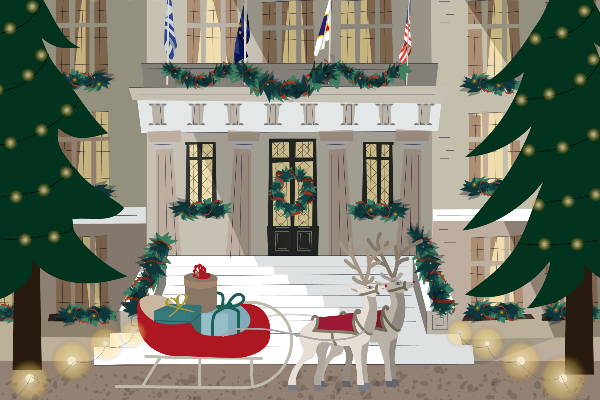 10th Athens College Marathon
We run apart. We support together.
The Athens Marathon, a global sporting event with great historical and social value, is being held virtually this year due to the pandemic. For the 10th consecutive year the College is participating, faithful to its own "route of giving" that has been perpetuated since its founding.
From the 8th to the 22nd of November, we are running - while following State guidelines and keeping safe - as a "virtual" team for a common cause. We are running for the Athens College Scholarship Program, wearing our School's colors, spreading the College spirit, contributing to the dissemination of the athletic ideal.
See more here