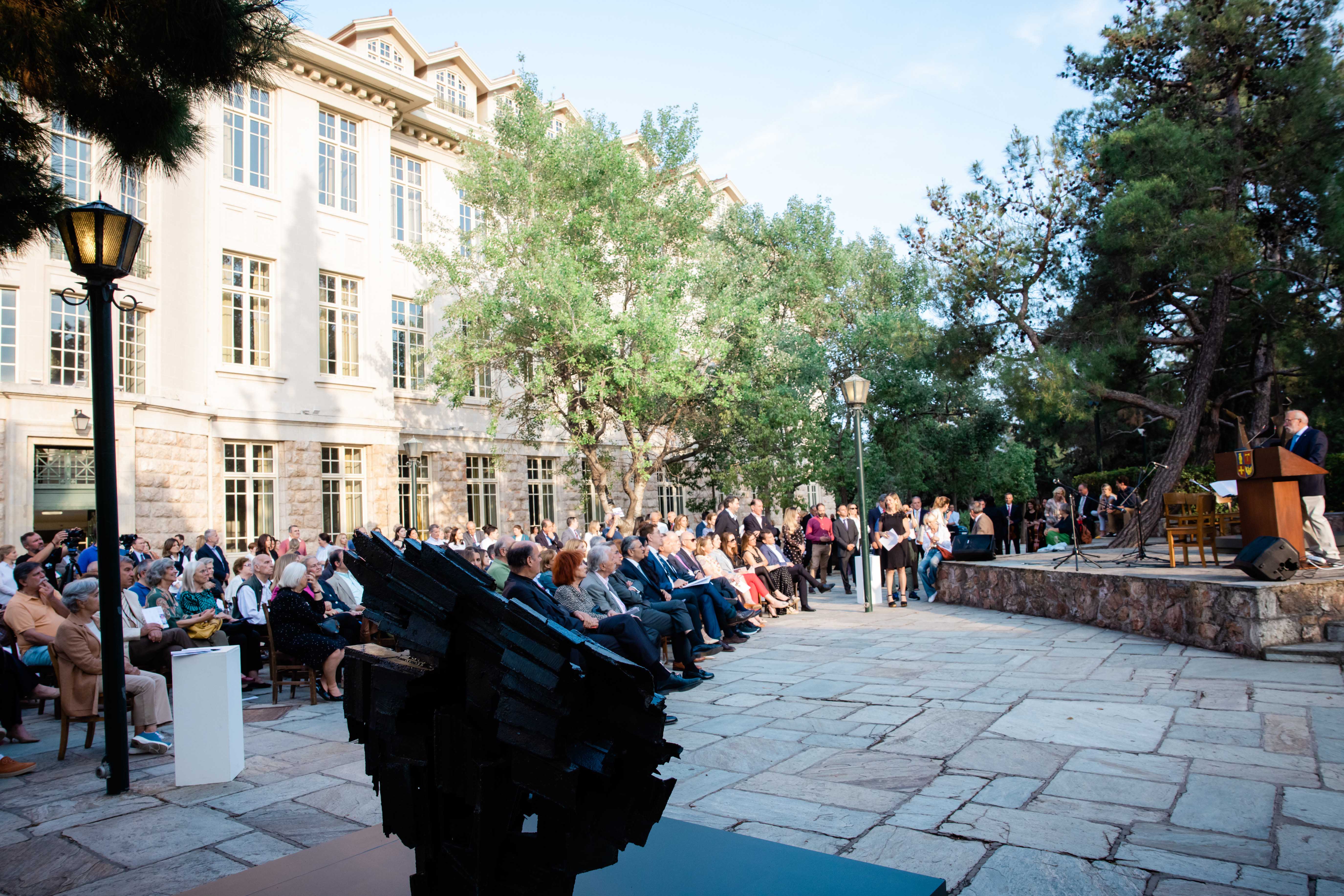 George Zongolopoulos Outdoor Sculpture Exhibition at Athens College
Jun 6, 2023
The opening of the George Zongolopoulos outdoor sculpture exhibition was held with great success on Wednesday, May 31, 2023 at the Athens College Bookis Plaza. Chairwoman of the Board of Directors of the Hellenic-American Educational Foundation Ms. Annika Papantoniou and Athens College President Professor Costas Synolakis '75 welcomed a large crowd to a highly aesthetic outdoor museum with ten large-scale sculptures by Zongolopoulos. This original exhibition entitled "Enlightenment for Life" was presented for the first time in the physical space of an educational institution.
Athens College President Costas Synolakis '75 greeted the hundreds of guests and announced that next September the exhibition will be extended to the two foyers of the College Theatre and will be enriched with smaller-scale sculptures, paintings, archive material and personal objects of the internationally renowned Greek artist.
Remarks were given by Mr. Nicos Theodoridis, President of the Board of the George Zongolopoulos Foundation, Ms. Iris Kritikou, the exhibition curator, archaeologist and art historian, and George Voukanos, music composer, whose work was performed by the Athens College Conservatory String Quartet.
Warm thanks were extended on behalf of Athens College and the George Zongolopoulos Foundation to collector and financier Zacharias Portalakis, for the loan of works from his collection for the needs of the exhibition.
The exhibition will be open to the public by reservation at 210 6798169 or at [email protected] as follows:
June 1 - July 20: Wednesday and Thursday, 5.00 p.m. - 7.00 p.m. with a guided tour
June 16 - July 20: Monday to Friday, 9.00 a.m. - 4 p.m. free guided tour
On Wednesday 6/14, Thursday 6/15 and Wednesday 7/12 the exhibition will be closed.