Athens College High School students who Successfully Completed the PanHellenic Mathematics Competition "THALES"
Jan 19, 2022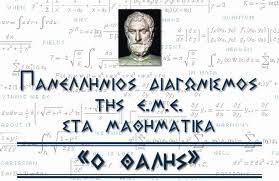 Athens College High School students who distinguished themselves in the 1st round of the 82nd PanHellenic Student Competition in Mathematics, "THALES" were:
Grade 10:
KARAPANOS PANAGIOTIS-ARIS
KOUKAS ACHILLEAS-VASILEIOS
PAVLOPOULOS ANDREAS
PIOVAN NIKI-PATRIZIA
TOUBEZOGLOU DIMITRIOS
CHATZIGAKIS CHRISTOS
Grade 11:
POLITIS PAVLOS
STAMATIADIS IOANNIS
FILOSIDIS SPYRIDON
Grade 12:
MACMILLAN MYRTO-TZENI
The 2nd round of the 82nd PanHellenic Student Mathematics Competition "EUCLIDES" will not take place this year. The National Mathematics Olympiad will take place on Saturday, February 26, 2022 and will be held, as last year, with qualifiers from "THALES" in exam centers, one in each region, in the Hellenic Mathematics Association's efforts to avoid overcrowding in Athens, observing all health protocols.
Congratulations to all our students for their successes and we wish them best of luck in the National Mathematics Olympiad!