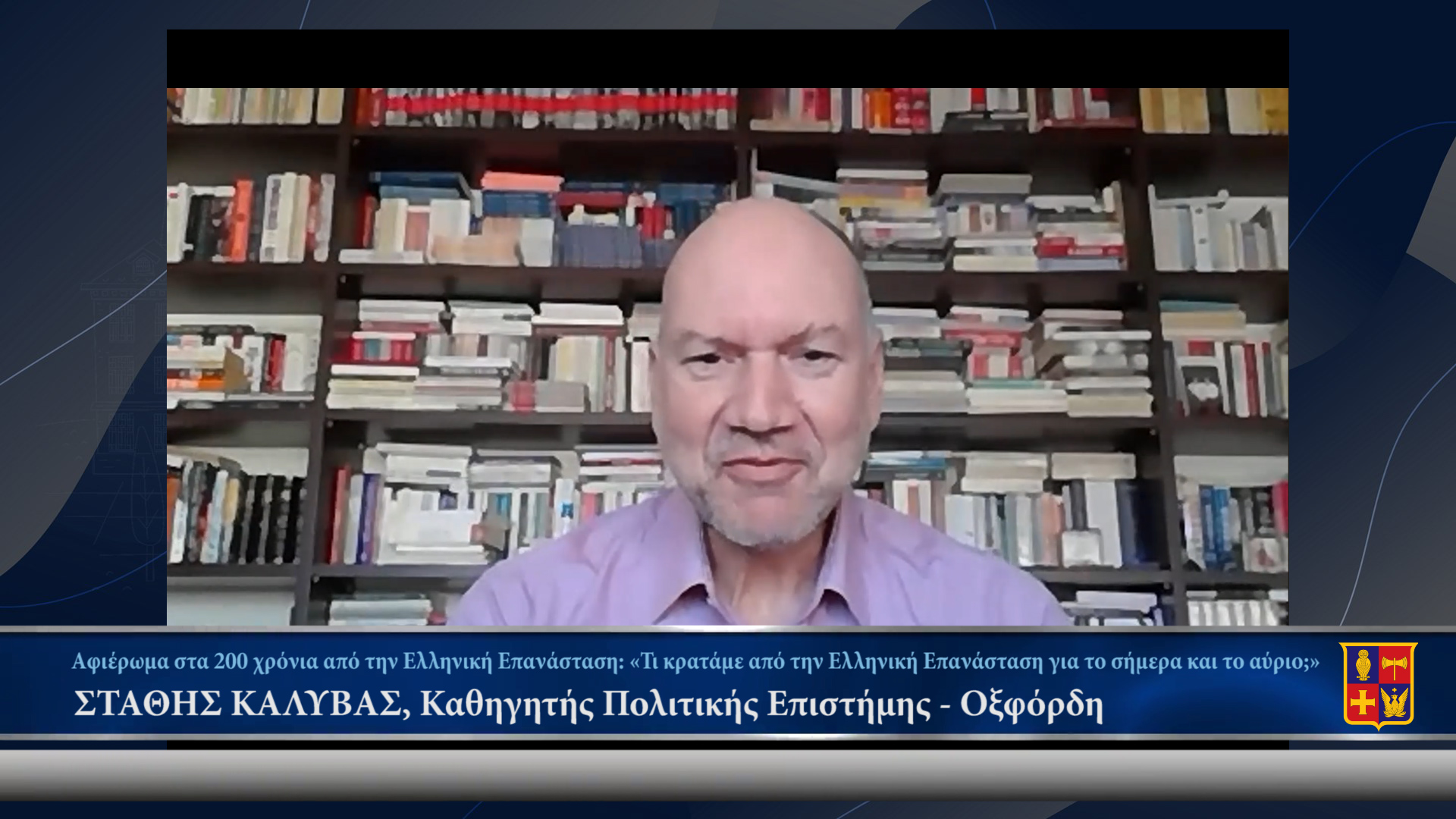 Speech by Professor Stathis Kalyvas to Athens College students
Dec 28, 2021
On Monday, December 20, 2021, Professor of Government at the University of Oxford Mr. Stathis Kalyvas gave an online lecture to Athens College High School students entitled: "What aspects of the Greek Revolution do we keep for today and tomorrow?". This was the last from a series of speeches part of our School's tribute to the 200-year anniversary of the Greek Revolution.
Mr. Kalyvas presented an analysis of three different approaches on the Greek Revolution: As the history and identity of our nation, as scientific history from the point of view of Social Science and as a general narrative. He then answered questions posed by members of the governing bodies of the Fifteen-Member Student Councils of Athens College and Psychico College High Schools.
Athens College President Professor Costas Synolakis '75 thanked Mr. Kalyvas for his comprehensive presentation, noting that he conveyed a message of optimism for an even better development of Greece in years to come.
Mr. Kalyvas was prefaced by Athens College High School Director Mr. Christos Konstantopoulos, who invited him to visit our School and speak to our students in person, once circumstances allow it.
About Stathis Kalyvas
Stathis Kalyvas is a Professor of Government at the Department of Politics and International Relations of the University of Oxford, holder of the Gladstone Chair, the oldest Chair of Political Science in Great Britain. He is also a fellow at the All Souls College of Oxford.
From 2003 to 2017 he was Professor of Politics at the University of Yale, where he founded and run a program for the study of Order, Conflict and Violence, the main areas of his research.
He graduated from the Department of Political Science and Social Administration of the National and Kapodistrian University of Athens and pursued postgraduate studies at the University of Chicago, where he received his PhD.
He has taught at the Universities of New York, Ohio State and Chicago and has been a visiting Professor in many other universities and colleges in America.
He is the author of many books, among them "Law, Conflict and Violence" and "The Logic of Violence in Civil War" by Cambridge University Press.
His books "Irregular Wars – Macedonia, Civil War, Cyprus", "Disasters and Triumphs– the 7 cycles of Modern Greek History", "Prayer in the future: A debate of issues of the contemporary Greek state from 1821 to today", were published in Greek.
He has received many important awards. In 2008, he was elected member of the American Academy of Arts and Sciences and in 2020 member of the British Academy.