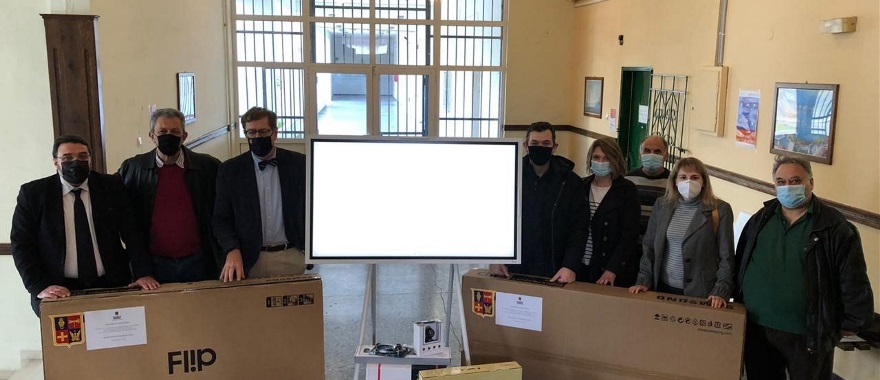 Technological Equipment Gifted to Schools in Samos
Jan 14, 2021
Athens College donated five interactive whiteboards and five computers to secondary schools in the towns of Karlovasi and Pythogoreio, Samos that were afflicted by the earthquake of October 30th. The donation of technological equipment was in memory of Claire and Aris, the two students who lost their lives in the catastrophic earthquake.
The items were turned over to the schools' Directors by Athens College President, Prof. Costas Synolakis, the Director of Social Welfare and Diversity, Mr. Chrysostomos Symeonidis, and the Head of Crisis Management, Mr. Vasilis Skanavis. Also in attendance at the presentation were Ms. Voula Tsiamitrou from the Directorate of Secondary Education and Mr. Alexandros Lymperis, Mayor of Western Samos.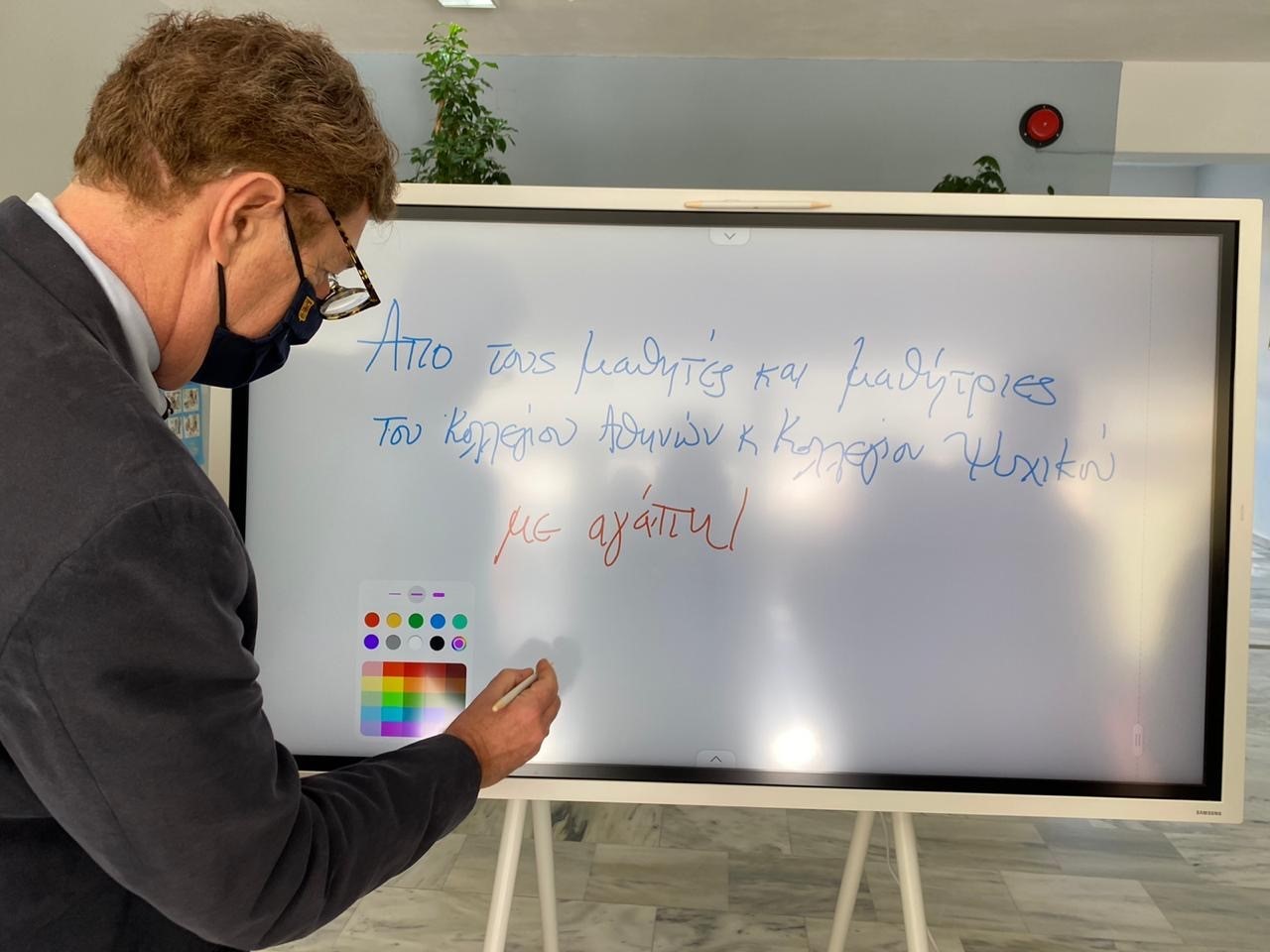 The Mayor of Eastern Samos, Mr. Georgios Stantzos, , together with the Deputy Mayors and the President of the Municipal Council and Bar Association, Mr. Georgios Kollaros, welcomed Mssrs. Synolakis, Symeonidis, and Skanavis at City Hall. Also present at the meeting were Dr. Nikolaos Kalligeris, Chief Researcher and Operational Head of the Hellenic National Tsunami Warning Center, a unit of the Institute of Geodynamics of the National Observatory of Athens, and Dr. Nikolaos Melis, Director of Research of the Institute of Geodynamics of the National Observatory of Athens.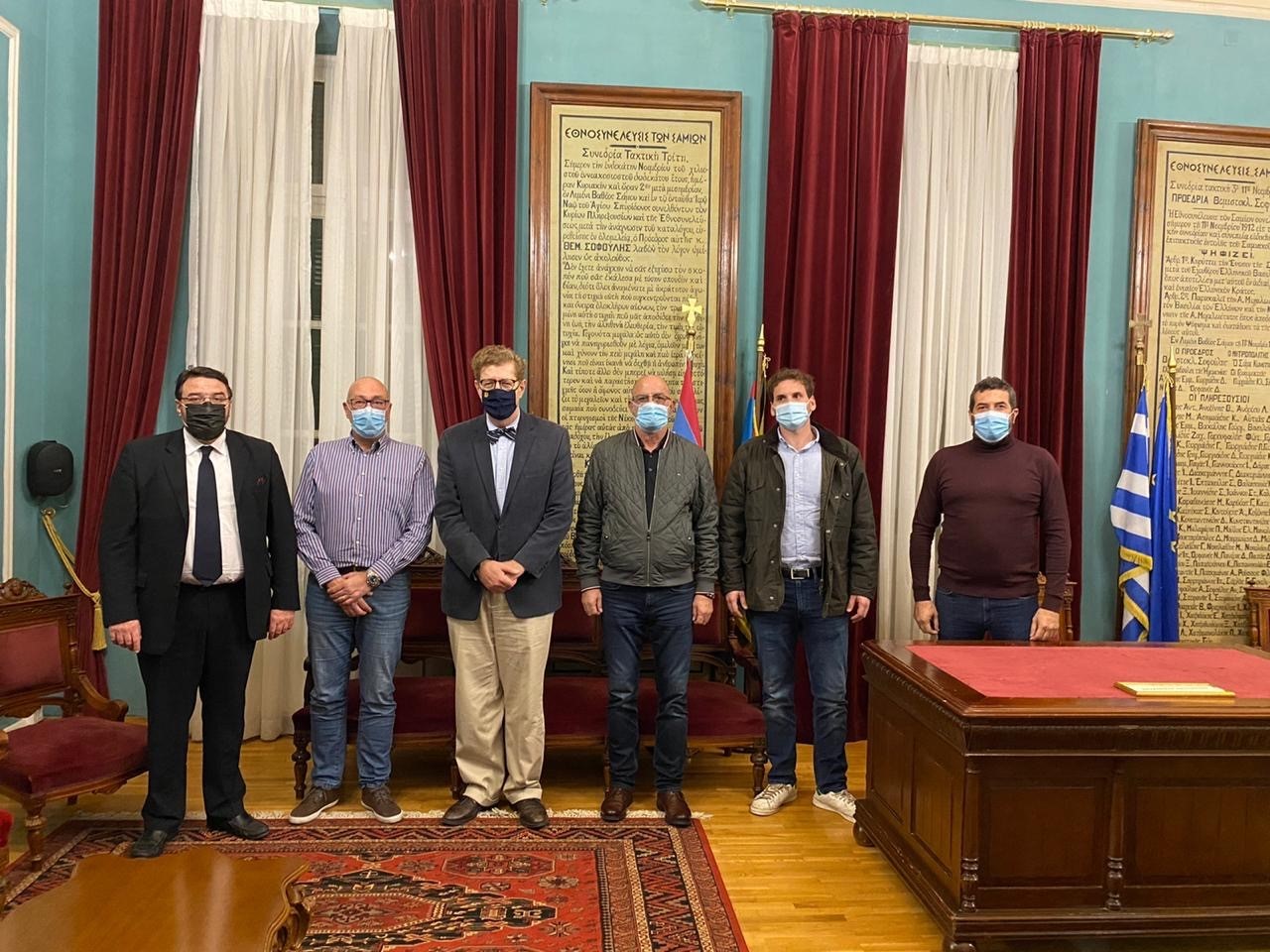 Professor C. Synolakis thanked the Mayor for his hospitality and announced the start of cooperation and joint actions between Athens College and institutions in Samos. He expressed his sympathy for the two children who lost their lives in the recent earthquake and stressed the need for proper education to deal with such extreme phenomena. As he pointed out, Athens College places particular emphasis on the prevention of and response to natural disasters, providing a special course in Junior High School 8th grade (B΄ Gymnasium).
The mayors of Samos praised Athens College for its significant contribution and invited Dr. Synolakis to visit the island again and speak to students in his capacity as Professor of Natural Disasters.