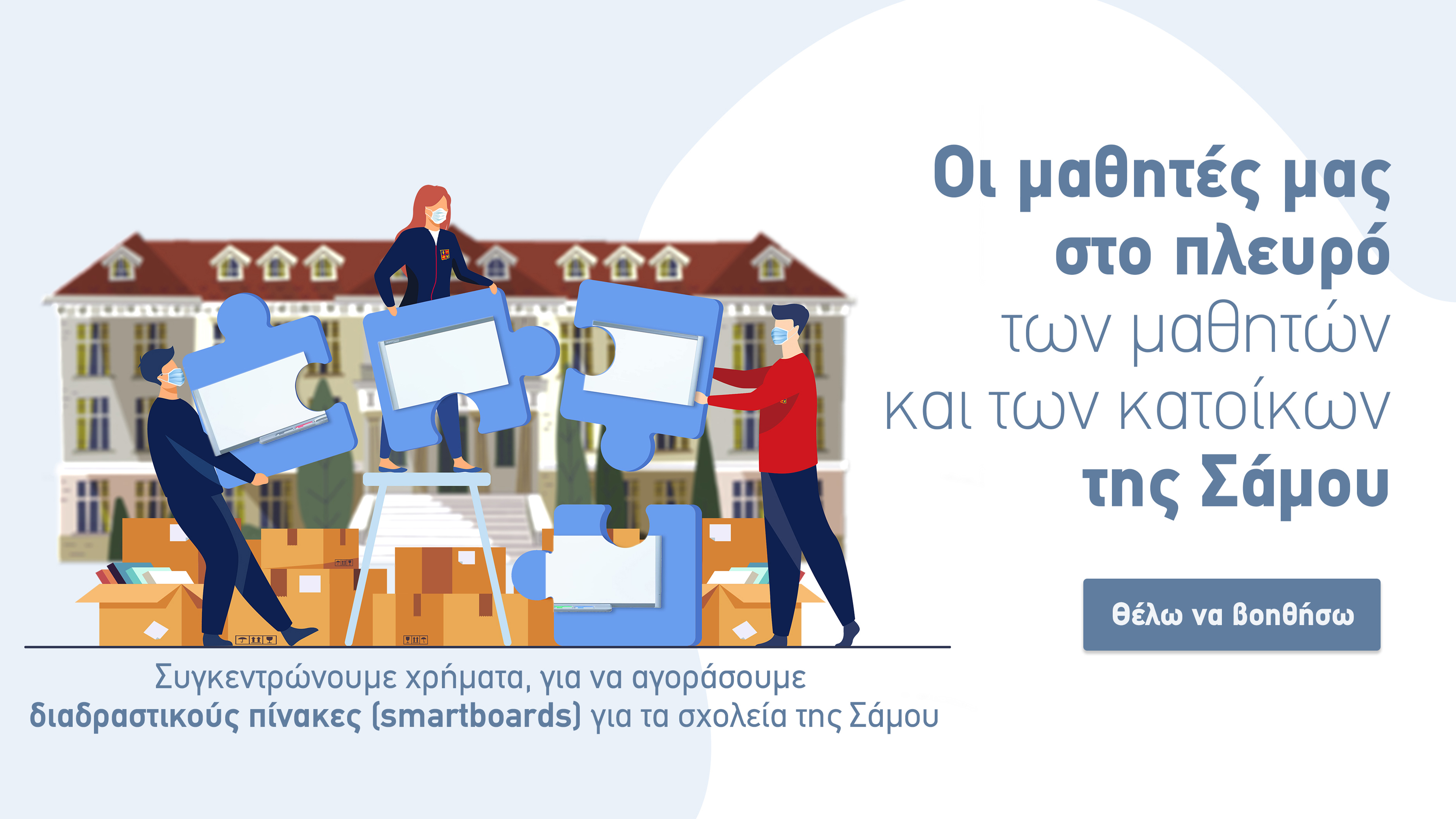 Our Students Stand By the Students and Residents of Samos
Nov 13, 2020
We would like to inform you that, following the State's decision to re-institute distance learning for secondary school pupils, the Student Communities of Athens College – Psychico College Junior High and High Schools, have decided to differentiate their form of support towards afflicted peers in Samos. Instead of collecting basic necessities, the Junior High and High Schools have decided to raise money with which they will buy interactive whiteboards (smartboards) for schools in the areas affected by the catastrophic earthquake of October 30, 2020.
The money will be deposited in the account maintained by the College at the National Bank of Greece:
100 / 480122-97
IBAN: GR14 0110 1000 0000 1004 8012 297
SWIFT (BIC); ETHNGRAA
When making a deposit, be certain to include your full name and the word "Samos" in the relevant field.
Elementary School students, together with the students of "J.M. Carras" Kindergarten, will continue to collect personal hygiene and cleaning items, long shelf life foods, stationery, school supplies, and bed linen.
As of Monday, November 2, items are being collected in designated areas in each of the College's school units and will then be packed in boxes by students for delivery to the afflicted.
Below is an indicative list of useful items for this humanitarian aid initiative:
Personal hygiene items: toothbrushes, toothpaste, soap, shampoo, etc.
Cleaning items: detergent, disinfectants, antiseptic wipes
Long shelf life foods: oil, pasta, rice, cereals, dry legumes, sugar, flour, canned items, biscuits, croissants, etc.
Stationary and school supplies: backpacks, books, notebooks, pencils, etc.
Bed linen: sheets, blankets, etc.
We invite you to assist in our students' efforts to support our fellow men who are in need of relief! If they wish, Elementary School and Kindergarten students, parents and teachers can of course contribute to the collection of funds. The action will last from November 16, 2020, through December 15, 2020.
Conclusion of Humanitarian Aid to the Regional Unit of Karditsa
After all, College students, parents, and teachers – upholding our School's tradition of social giving – demonstrated a few days ago their willingness to show solidarity with the afflicted people of Karditsa – Mouzaki and surrounding areas by sending more than 300 parcels of basic necessities. Thank you from the heart for your response. We believe that we will participate with the same fervor in the call for humanitarian aid for the people of Samos.