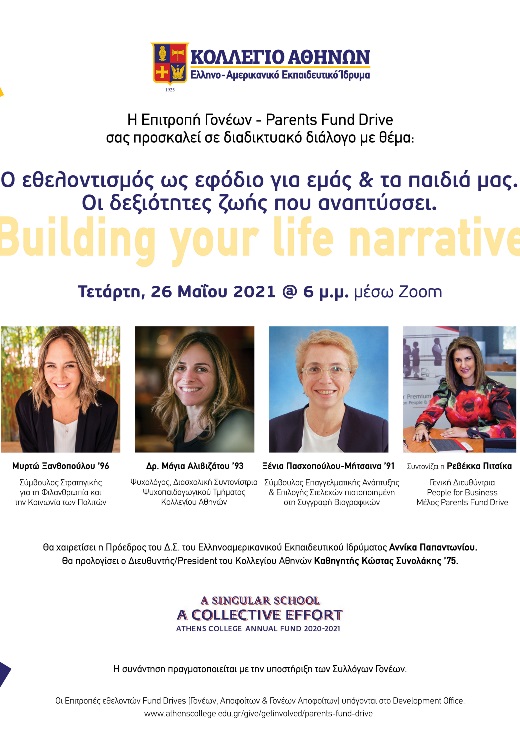 TIME:
06:00 PM - 07:00 PM
Parents Fund Drive Presents Online Event on Volunteering
On Wednesday, May 26, at 6:00 p.m., the Parents Fund Drive (PFD) is organizing an online dialogue on
"Volunteering as a tool for us & for our children. The life skills it helps develop. Building your narrative."
The event will take place on Zoom. You can follow it on the link below:
https://us02web.zoom.us/j/81575555298?pwd=aWJ6L2xRWmVkM2VRTTNHRml0QTBPUT09
Meeting ID: 815 7555 5298, Passcode: 783531
Speakers:
Myrto Xanthopoulou ΄96, Consultant – Strategist in Philanthropy and Civil Society
Dr. Maya Alivizatou ΄94, Psychologist, Interschool Coordinator of the Psychoeducational Department of Athens College
Xenia Paschopoulou – Mitsaina ΄91, Headhunter and Career Management Advisor, Certified Professional Resume Writer
Rebecca Pitsika, CEO People for Business, member of the PFD, will moderate the event
Annika Papantoniou, Chairwoman of the Hellenic-American Educational Foundation will give a welcoming address. Prof. Costas Synolakis ΄75, Athens College President, will give a prologue.
The event is being held with the support of the Parents' Associations.
See more here.