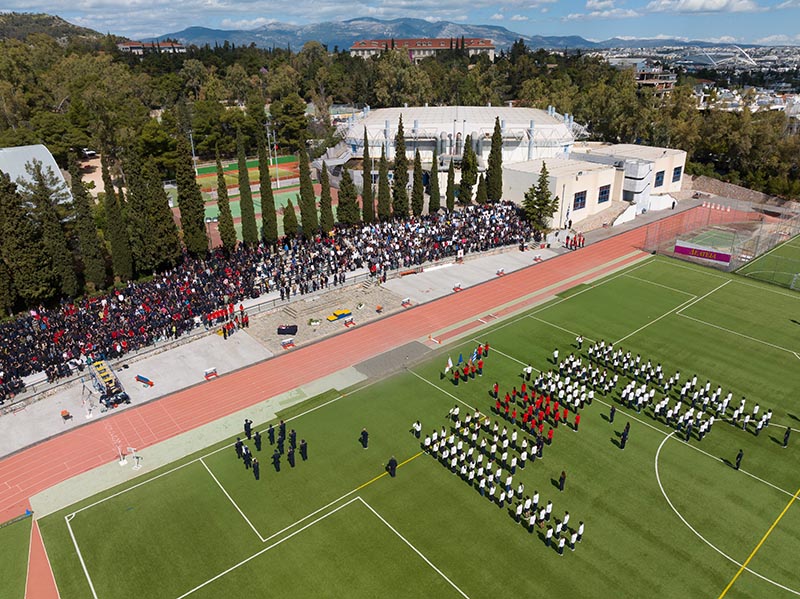 93rd Annual Track & Field Meets - "DELTEIA 2023"
Apr 5, 2023
The 93rd Junior High – High School Track & Field Meets, "Delteia 2023," were held on Wednesday, April 5, 2023, in memory of Stephanos Delta, Founding Father of Athens College. The student percussion band, in its own distinctive fashion, opened the ceremonial part of the event.
During the ceremonial program, all student members of the "A" Association, as well as all students competing in the finals, paraded around the track. Leading the procession was the Hellenic Police Band, which always honors us with its presence. After raising the flag, singing the national anthem and placing a wreath in memory of College Founding Father Stephanos Delta, Ms. Annika Papantoniou, Chairwoman of the Board of Directors of the Hellenic-American Educational Foundation, declared the games open.
The Delteia games took place in the presence of all Junior High and High School students, parents and friends of the College, who, with great satisfaction, watched the competition between grades in their struggle for the highest Overall Score. With 171,5 points, the winner was the 10th grade.
Iason Vylliotis was the best male student with his performance in High Jump (1,96 m) earning a total of 854 points; Anna Maria Ivits was the best female student who scored 861 points for her performance in 400m Sprint (1'00''15).

New Delteia records were set by:
1.500m race boys, Athanasios Marios Zygoyris, Psychico College Grade 12, 4'05''66
1.500m race girls, Kalliopi Patera, Athens College Grade 10, 4'55''36
3.000m race boys, Ioannis Bitounis, Athens College Grade 10, 8'55''32