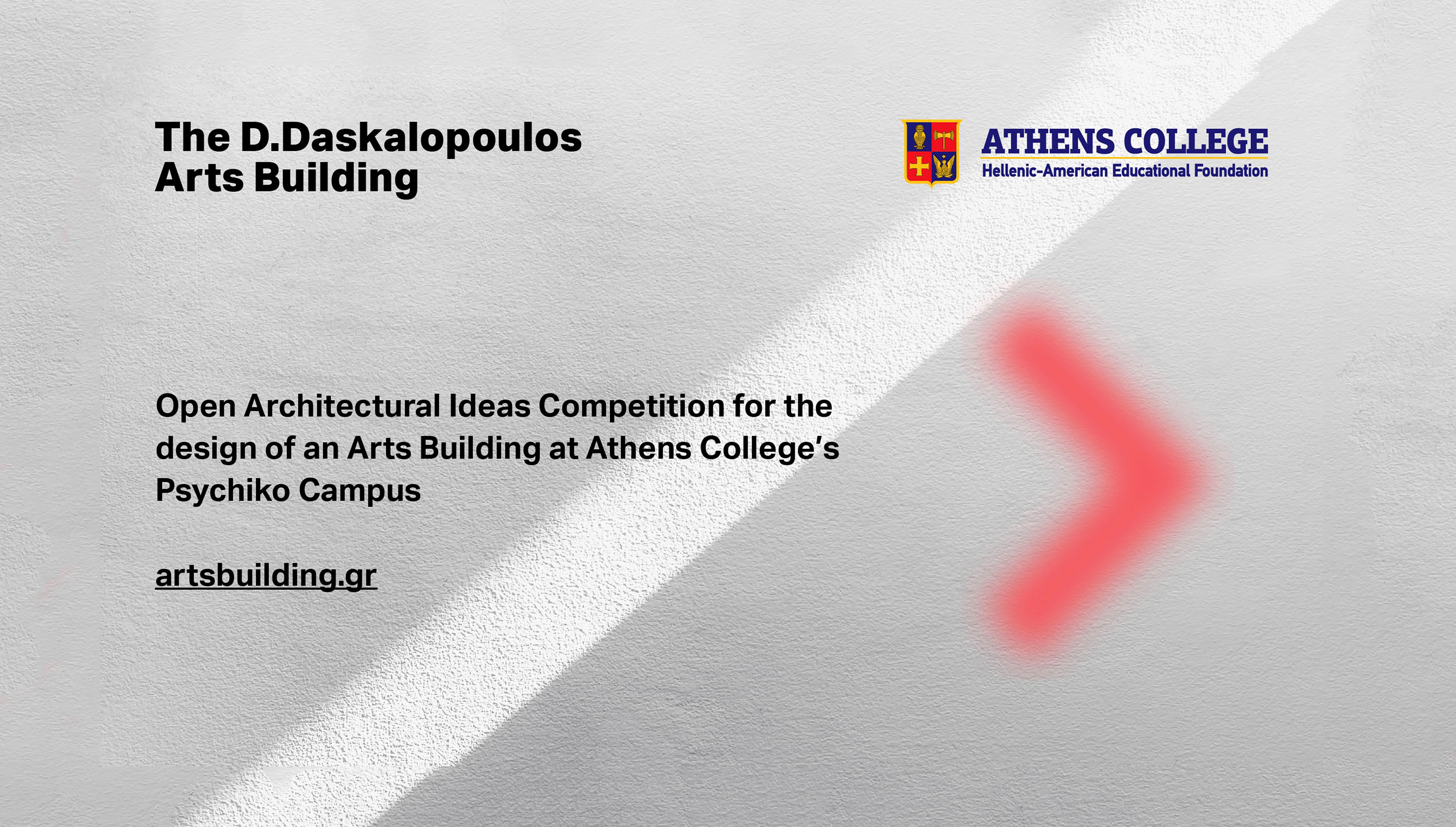 Announcement of the results of the architectural competition for the new Arts Building at the Athens College - Psychico Campus
Mar 16, 2022
The open Architectural Ideas Competition for the construction of a new Arts Building within the premises of the Psychico Campus of the Hellenic-American Educational Foundation, jointly organized by Athens College and SYNNEON non-profit association, attracted a large number of submissions. The new building will serve as an educational center and exhibition space for artistic education and will be funded through a donation from Dimitris Daskalopoulos, an alumnus of Athens College.
A total of 64 highly detailed and aesthetic architectural proposals, at the level of ideas, were received. On the basis of the evaluation criteria outlined in the Competition Announcement, four ideas particularly stood out and will receive cash prizes of €20.000, €15.000, €10.000 and €5.000. A further three proposals have been awarded an honorable mention.
The selection was made by a 10-member jury composed of distinguished Greek and international professionals in the fields of architecture, design, landscape architecture, arts and architecture history, as well as representatives of Athens College and the donor. The jury closely reviewed the submissions' comparative advantages and identified possible improvements. The competition organizers will now select which of the four winning architectural teams will be appointed to finalize their construction proposal. Their decision will consider innovative architecture and design, functionality and feasibility, visual integration with the existing buildings and landscape, and compliance with the project's budgetary and sustainability aims.
The Arts Building will be developed within the Athens College Psychico Campus and will include an educational center, an exhibition area, an amphitheater, an underground parking facility as well as an outdoor space.
The project will be completed by Athens College's 100th anniversary in 2025. The sole donor of the Arts Building is SYNNEON, the non-profit association founded by Dimitris Daskalopoulos specifically to finance the project. The total cost will be €6.2 million with a further donation of €500.000 for equipment to be made available once the building work has been completed.
In particular, the awarded proposals are:
First prize (€20.000) to the associate architects: Aikaterini Gousgouni, Eleana Pastra and Foivos Sigalas (Μolior Αrchitects).
Second prize (€15.000) to the associate architects: Florian Liakos, Alexios Visvinis, Angeliki Dimitroulopoulou, Irene Helene Marcantonatou (in collaboration with Sotiria Smirnaiou) and Ioannis Petropoulos.
Third prize (€10.000) to the collaboration of Neiheiser Argyros, founded of Xristina Argyrou and Ryan Neiheiser, and Stefanos Vasdekis.
Fourth prize (€5.000) to the collaborating architectural offices of D. Thomopoulos & Th. Chatzigiannopoulos.
Honorable mentions were attributed to the following associate architects and design offices:
Agis Mourelatos (Agis Mourelatos | Architects) and Georgios Fatseas in collaboration with Marina Filippopoulou (consulting architect), Antonios Mourelatos (consulting architect), Ioanna Diamanti (architecture student, design team), Georgios Karonis (architect, design team) and Antonis Tzortzis _ Studio Taf (rendering)
Panos Parthenios, Anna Karagianni, Christos Kyrou and Georgia Ina Partheniou in collaboration with Valina Geropanta (urban architect), Giannis Petroulakis (urban architect), Karolos Hanikian (landscape architect), Manolis Economou (landscape architect), Flora-Maria Mpougiatioti (sustainable design), Alexadros Papandreou (educational consultant), Panagiotis K. Parthenios (structural engineer), Raissa Andreopoulou (landscape architect), Konstantina Kerasoviti (architect, WELL AP), Giannis Dahis (architect), Kiriaki Forti (architect), Dimitra Niktari (architecture student), Georgia Litsika (architecture student) and Lais - Ioanna Margiori (architecture student)
Christina Loukopoulou, Iro Bertaki, Kostis Panigiris and Konstantinos Apostolidis in collaboration with Lost Minute Studio, Fotini Adrimi, Vasilis Kalisperakis (architectural visualisation), Michalis Aggelidis (structural engineer), Dimitris Mantas (mechanical engineer), Aris Tsagrasoulis (energy and environmental planning consultant), Antonis Skordilis (landscape architecture consultant) and Elli Tsakopoulou (architect)
It should be noted that all submitted proposals came from Greek architects, engineers and offices based in Greece and abroad
The new Athens College Arts Building, to be known as "The D.Daskalopoulos Arts Building" will host Athens College's International Baccalaureate (IB) Arts Program as well as the corresponding junior and senior high school courses. Beyond its main function as an educational center, it aims to be a vibrant and creative space for the wider community and to contribute, through its exhibition spaces and public arts programs, to the development of new conversations around arts and contemporary culture.
This project will position The D.Daskalopoulos Arts Building Arts as a leading cultural center in the local area and a reference point for arts educational institutions both nationally and internationally. It will enable Athens College students and alumni, artists and members of the greater community to enrich their experiences through its programs.
For more information please visit www.artsbuilding.gr
Dimitris Daskalopoulos was pleased to accept the Athens College President's proposal to finance the development of this building, as he shares Athens College's profound conviction that exposure to contemporary artistic creation plants the seed of curiosity, enhances creativity and is an indispensable component of contemporary education. Mr Daskalopoulos already supports art education and young creators through the NEON Organization projects. The pioneering educational program "Is this Art?", a collaboration between NEON Organization and the Hellenic Children's Museum, has implemented educational programs in 145 schools, with the participation of 16,848 students. In addition, since 2013 NEON Organization has awarded €2.5 million in scholarships and sponsorships in contemporary culture.
The 10-member jury consists of:
Four distinguished professionals in the fields of architecture, design, landscape architecture, arts and architecture history: Amale Andraos, Dean of Columbia's Graduate School of Architecture University; Andreia Costa, architect; Marcus Fairs, founder and editor-in-chief of Dezeen and Georgios Panetsos, Professor of Architecture at the University of Patras.
Four members representing Athens College: Damianos Abakoumkin, architect, member of the Board of Directors of HAEF; Alexandros Kamarinos, engineer, member of the Board of Directors of HAEF; Dr. Alexandros Nehamas, member of the Board of Trustees and Professor Costas Synolakis, President of Athens College.
Two members representing the donor: Dimitris Daskalopoulos and Elina Kountouri, Director of NEON Organization.