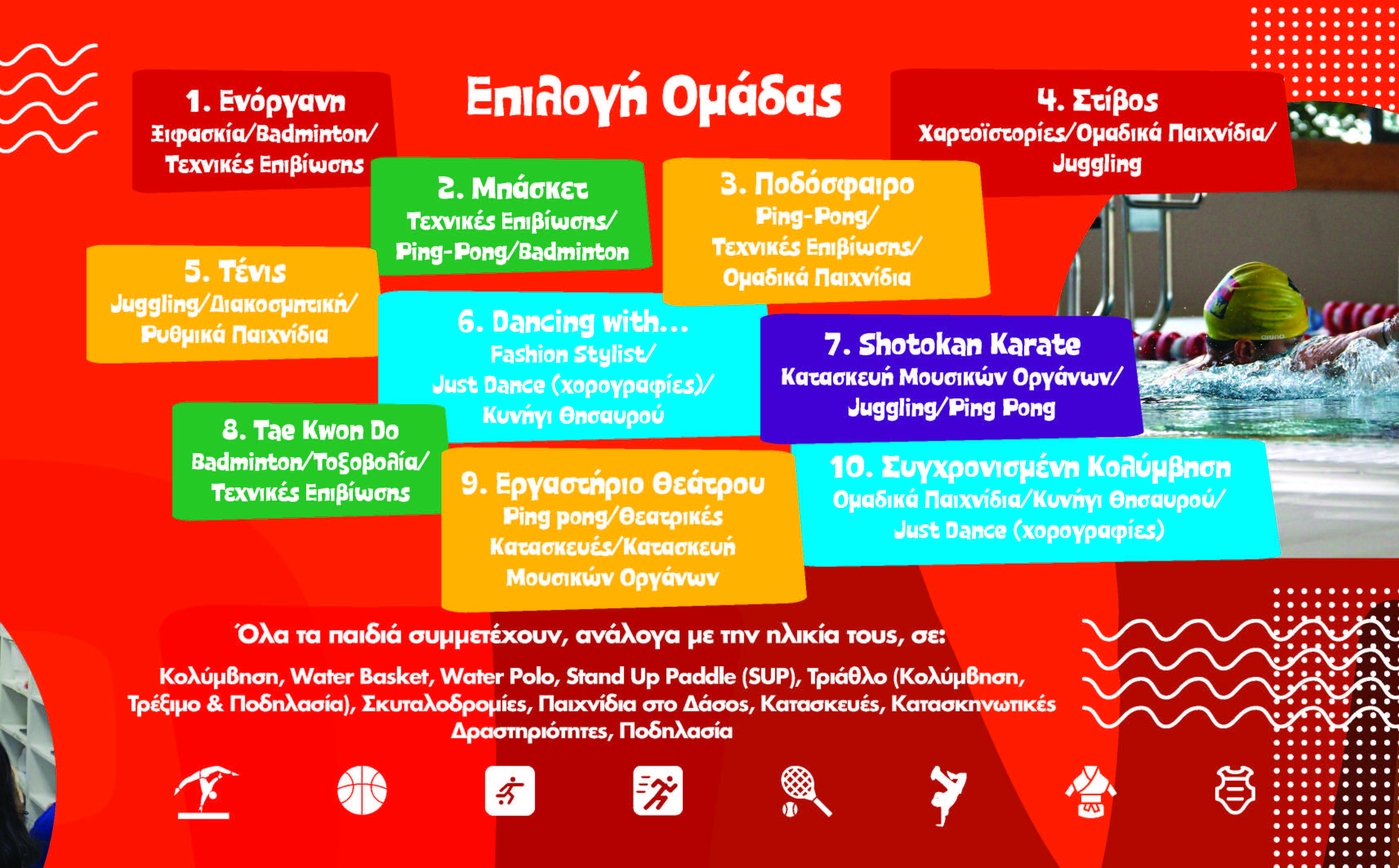 From June 20 to July 8 2022 on the College's verdant hill in Kantza:
The program is for students who have completed Grades 2,3,4,5,6 who can only choose from one (1) group of activities. Every group includes a sports camp-morning program and three clubs-afternoon program:
Gymnastics - Fencing/Badminton/Survival Techniques
Theater Workshop - Ping Pong/Theater Constructions/Musical Instrument Constructions
Basketball - Survival Techniques/Ping Pong/Badminton
Soccer - Ping Pong/Survival Techniques/Team Games
Track and field - Paper stories/Team Games/Juggling
Synchronized Swimming - Team Games/Treasure Hunt/Just Dance
Tennis - Juggling/Decoration/Rhythmic Games
Dancing with...- Fashion Stylist/Just Dance (choreography)/Treasure Hunt
Shotokan Karate - Musical Instrument Constructions/Juggling/Ping Pong
Tae Kwon Do - Badminton/Archery/Survival Techniques
All the children participate in activities in the swimming pool and the forest depending on their age.
Grade 2 students can choose a different afternoon activity instead of the three clubs:
Diava…ZONTAS (Reading and LIVING)
This club is for children who have completed primary grades 1 and 2.  The objective is to have students review and reconnect with elements of the language curriculum, to strengthen reading and writing skills and cultivate reading appreciation through cognitive and fun-filled activities. At the same time, the club aims to help non-readers become fluent in reading.
to help non-readers gain fluency in reading
to contribute to the further development of all students' reading skills
to enhance reading comprehension
to enhance listening comprehension
to enhance verbal expression
With reading at its core, students will be able to finish the course with quick and clever activities, which can also be conducted at home. Children will gain new knowledge and learn through play.
String instrument learning in group lessons (violin, viola, cello, guitar)
Athens College, always a pioneer in the field of education, for the past 15 years has been offering group lessons in musical instrument playing to students in primary grades 1 and 2.  This year, for the first time, the program is being offered to our young friends in the College's Summer Programs.
Specialized teachers, applying avant-garde music pedagogical practices, help children to discover the wonderful world of music. Through the College Conservatory and numerous school ensembles (College Symphony Orchestra, Musical, Drumsticks, Children's Opera, Choir, and more), we lay the foundations for the meaningful involvement of children with music. In a pleasant and creative manner, children develop and cultivate skills important for today's students, while being taught important values and principles, such as respect, solidarity and team spirit.