Nicholas Gage Speaks to High School Juniors
Oct 17, 2019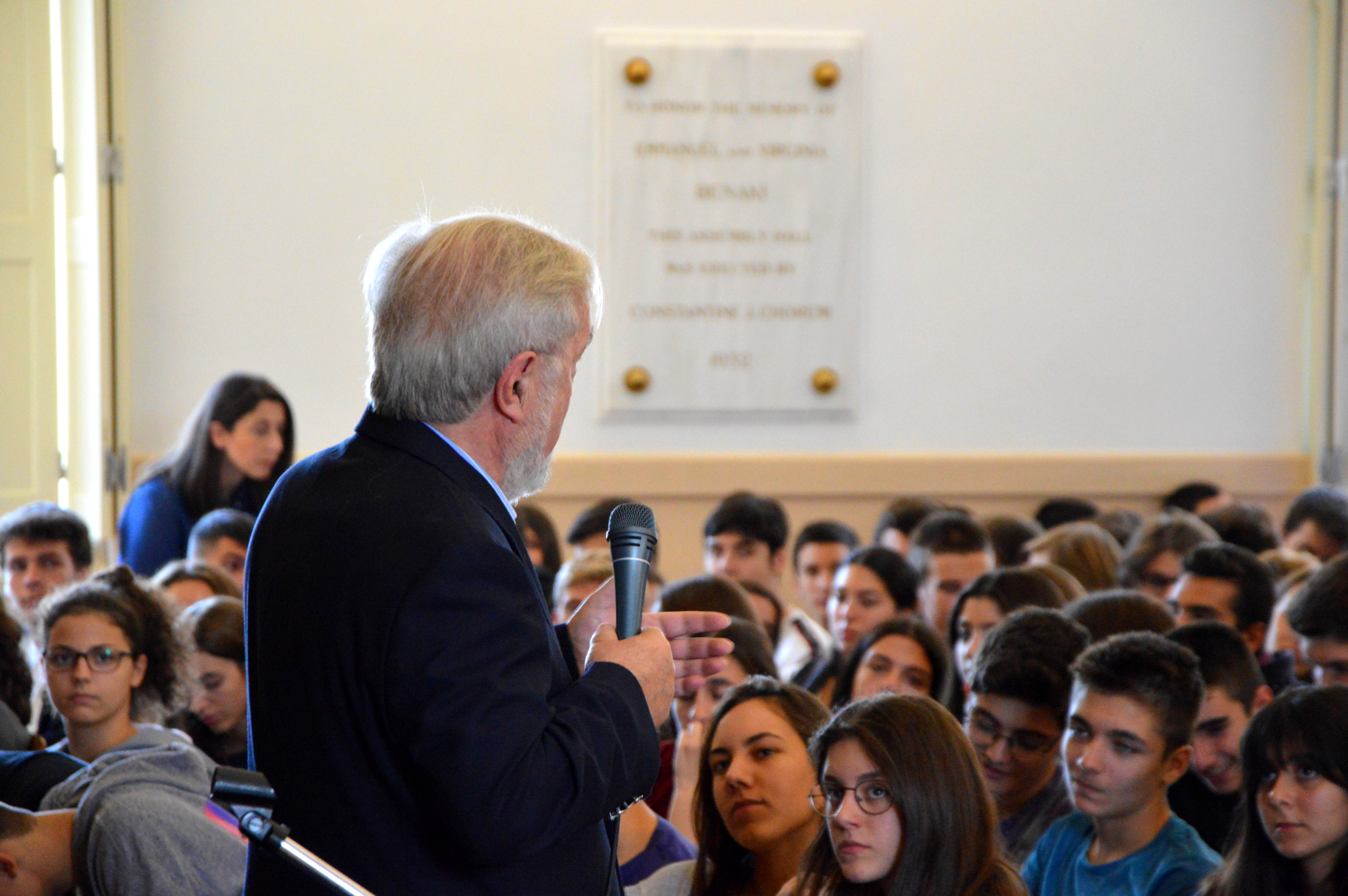 Following his highly successful speech at this year's 90th Commencement exercises, Nicholas Gage (Nikolas Gatzoyiannis), the award-winning author and journalist, once again visited the College on Thursday, October 17th to address High School 11th graders.
Mr. Gage spoke about the importance of understanding the choices that young people have. He also shared his experiences on how he started from a small village in Thesprotia and reached the United States where he lives to this day.
He advised students to focus on their goals and develop their talents, stressing that they can achieve whatever they wish through persistent effort. He then answered students' questions about his early years in the States and how he adapted, as well as about his body of works and the writing process he follows.
A few words about Nicholas Gage
World-renowned for his award-winning book "Eleni," Nicholas Gage was born in 1939, in the village of Lia, Thesprotia. In 1949, during Greece's Civil War, he escaped to the United States where he has since lived.
He earned his undergraduate degree on a scholarship from Boston University's School of Public Communication and in 1964 earned his Master's Degree from Columbia University in New York City.
Nicholas Gage's career began as an investigative reporter for the Associated Press, as well as The Boston Herald Traveler, The Wall Street Journal and The New York Times. He was the first journalist to have access to President R. Nixon's recorded conversations about the Watergate scandal and instrumental in exposing Vice President S. Agnew's involvement in corruption, which ultimately led to Agnew's resignation.
He has written books on organized crime, drug trafficking and political corruption. The best-selling "Eleni" is about his mother who was executed during the Greek Civil War by the Communist guerillas of the "Democratic Army." It has been translated into 32 languages and it received the first prize by the Royal Society of Literature of Great Britain. The book was also successfully made into a feature film.
Additionally, Nicholas Gage was co-producer of the highly lucrative film "Godfather 3," which in 1994 was nominated for seven Oscars, including Best Motion Picture.